SUPER bioFREAK OMG
Super bioFREAK OMG will take your workout to levels never felt before. You will experience increased strength, endurance, dialed-in focus, elevated pumps/vascularity, and non-stop energy to push you through even the most grueling workout.
The Industry's MOST
POWERFUL Pre-Workout
10g Citrulline Malate 9:1
3.5g Beta Alanine
1.5g Agmatine Sulfate
INTENSE Neurotrophic/Stim Complex!

Train Hard. DEMAND THE BEST.

Super BioFreak OMG Drink it before your workout
FOCUS. Yes, dialed in tunnel vision, allowing you to stay focused on the task at hand-maximizing every minute of your particular workout.
PUMP/VASODILATION. The holy grail-blood engorging the muscles, veins popping out of your skin, muscles looking twice their size. Sounds great, right? Yep-it is.
Muscular Endurance/Lactic Acid Buffering. Getting those extra reps and sets when your normal workout says "hey-you're done buddy." Those extra reps and sets are responsible for creating those ever so needed micro-tears, the ones that repair a little stronger and more dense, for yeah, muscle growth. Do NOT underestimate this portion of your pre-workout. It's one thing to THINK you can lift the weight, and an entirely different thing to actually DO IT.

A core of the most potent ingredients for Muscular Endurance, Lactic Acid Buffering, and the most insane pumps you'll ever experience. Check out some of the stand-alone products on the market specifically for pumps-Super bioFREAK beats them to a pulp, all in a SINGLE scoop! Yes-a SINGLE scoop. You want focus? You've never been in the "zone" like this….ever. The loaded ingredient profile delivers neurotrophic heaven. Last but certainly not least, this is a pre-workout that will outlast even the most grueling pain inducing, marathon workout. You'll leave feeling like you can do it all over again. And NO CRASH. Yes NO CRASH.

FLavors
Strawberry Lemonade
Wildberry
Watermelon
Cherry Limeade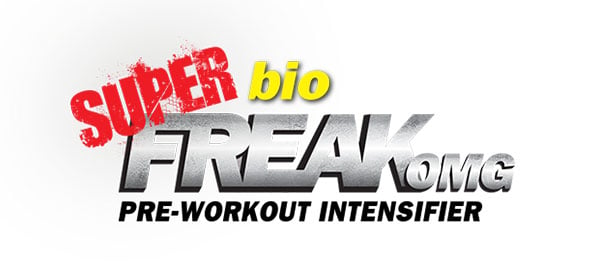 Directions for use: As a dietary supplement, mix 1 scoop in 8-12oz. of cold water. Consume 20-30 minutes before exercise. Start use with half a serving to access tolerance. Never exceed 2 servings within a 24 hour period. Do not take with other products that contain caffeine or other stimulants. Read warnings and only use as directed.
Store tightly sealed in a cool, dry place or in refrigerator to maintain product consistency. Some clumping may occasionally occur but will not affect product performance.
Stack SUPER bioFREAK OMG with bioBURN for the most scientifically advanced fat-burning session imaginable, and/or with bioFORCE for pure mass/strength gains. bioPRO/bioREPAIR (Chelaton Technology Formula) should always be used Post-Workout for optimal recovery.
Customer Reviews
07/17/2019
Brian Q.
United States
I'm now a SuperBioFreak
Great pre-workout. It keeps me energized throughout the whole gym session. Don't take it if you aren't serious in the gym!
07/16/2019
Kalalee C.
United States
Pre work out
Yes exactly what I was looking for, normally not a fan of pre workouts, but I love how this makes me feel. I don't feel all jittery
07/11/2019
Carlos A.
United States
One try and your hooked
Very satisfied! I got a sample of the prework out from a friend and had myself a great work out that day. So i ended up buying my own batch, i really recommend this product and will keep using it.
06/30/2019
Daniel Culveyhouse
My pre-workout for life, thanks to James (ObeyTheBolt)
After 20 years of trial and error with pre-workout formulas (mostly all ERROR), I finally got my hands on this once I started training with James Hurst. And in plain English, I realized that Super BioFreak OMG is the "trinity" of pre-workout secrets: Citruline malate, β-Alanine, and Agmatine Sulfate. These three compounds deliver the savory pumps that I've wanted for years. In fact, it doesn't even take a full scoop to achieve them. The only thing missing in the ingredient list is creatine HCL. However, your favorite form or creatine is best taken separately from an NO2 pre-workout like this one. Interestingly, Global Formulas doesn't offer that form of creatine (creatine HCL) in any of its products, but rather they chose magnesium creatine chelate). Personally, I stick with creatine HCL because it's the lone creatine binding that doesn't cause bloating or that dreaded water bowling ball. So, here's my pre-workout cocktail: 3/4 scoop of Super BioFreak OMG, 1 scoop of BioRepair, and 1000mg of creatine HCL (other brand).
06/25/2019
chris m.
United States
Excellent
this stuff is super freak. within 20mins of taking, i am more alert, more energy and i can go all day in the gym. definitely worth the money.