SUPER bioFREAK OMG
Super bioFREAK OMG will take your workout to levels never felt before. You will experience increased strength, endurance, dialed-in focus, elevated pumps/vascularity, and non-stop energy to push you through even the most grueling workout.
The Industry's MOST
POWERFUL Pre-Workout
10g Citrulline Malate 9:1
3.5g Beta Alanine
1.5g Agmatine Sulfate
INTENSE Neurotrophic/Stim Complex!

Train Hard. DEMAND THE BEST.

Super BioFreak OMG Drink it before your workout
FOCUS. Yes, dialed in tunnel vision, allowing you to stay focused on the task at hand-maximizing every minute of your particular workout.
PUMP/VASODILATION. The holy grail-blood engorging the muscles, veins popping out of your skin, muscles looking twice their size. Sounds great, right? Yep-it is.
Muscular Endurance/Lactic Acid Buffering. Getting those extra reps and sets when your normal workout says "hey-you're done buddy." Those extra reps and sets are responsible for creating those ever so needed micro-tears, the ones that repair a little stronger and more dense, for yeah, muscle growth. Do NOT underestimate this portion of your pre-workout. It's one thing to THINK you can lift the weight, and an entirely different thing to actually DO IT.

A core of the most potent ingredients for Muscular Endurance, Lactic Acid Buffering, and the most insane pumps you'll ever experience. Check out some of the stand-alone products on the market specifically for pumps-Super bioFREAK beats them to a pulp, all in a SINGLE scoop! Yes-a SINGLE scoop. You want focus? You've never been in the "zone" like this….ever. The loaded ingredient profile delivers neurotrophic heaven. Last but certainly not least, this is a pre-workout that will outlast even the most grueling pain inducing, marathon workout. You'll leave feeling like you can do it all over again. And NO CRASH. Yes NO CRASH.

FLavors
Strawberry Lemonade
Wildberry
Watermelon
Cherry Limeade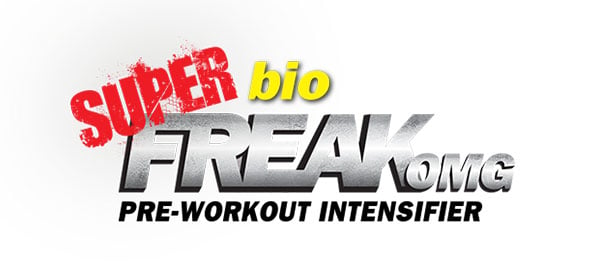 Directions for use: As a dietary supplement, mix 1 scoop in 8-12oz. of cold water. Consume 20-30 minutes before exercise. Start use with half a serving to access tolerance. Never exceed 2 servings within a 24 hour period. Do not take with other products that contain caffeine or other stimulants. Read warnings and only use as directed.
Store tightly sealed in a cool, dry place or in refrigerator to maintain product consistency. Some clumping may occasionally occur but will not affect product performance.
Stack SUPER bioFREAK OMG with bioBURN for the most scientifically advanced fat-burning session imaginable, and/or with bioFORCE for pure mass/strength gains. bioPRO/bioREPAIR (Chelaton Technology Formula) should always be used Post-Workout for optimal recovery.
Customer Reviews
09/11/2019
Tyler G.
United States
Stop searching for a preworkout, HERE IS YOUR ANSWER
Best. Pump. EVER. On top of that, the mental focus it gives me has me dialed in all day!
09/04/2019
Richard B.
United States
Bio Burn
This is no joke. You have to keep your sweat rag close. You'll need it!!
09/04/2019
Asalee B.
United States
omg
This super bio freak was recommended to me by my trainer kd I've been hooked ever since it's the boom best prework out supplement I ever had
08/27/2019
Joe S.
United States
Sustained energy
No crash and a great "extra push" feeling throughout entire workout
08/22/2019
Brian P.
United States
Great Product
1st off the reason for 4 stars is its a little too pricey. I've been taking this pre for about 2 weeks now and noticed the pumps are insane. My power and stamina are slightly lower but the pump last for hrs after my workouts.